Getting Started
ezBarcodeComponent
for .NET is a .NET assembly (DLL) which generates barcode images for Windows Forms Applications. ezBarcodeComponent will draw barcode image onto a windows form or asp.net, after choosing a Barcode Symbology, and setting its properties.
ezBarcodeComponent
for Windows Forms is very easy to use and does not need any special configuration. It support drag and drop features.
It is very easy for
ezBarcodeComponent
to databind in application and used in Crystal Report, even in web services. We includes examples in developing project for windows forms, crystal report, web services, data binding and asp.net.
ezBarcodeComponent
lets you rotate, save the barcode images.
ezBarcodeComponent
supports most commonly used 1-d and 2-d barcode symboloyies, including Codabar, Code11, Code128, Code39, Code39Ext, Code93, Code93Ext, Ean13, Ean8, Industrial2of5, Interleaved2of5, UccEan128, MSI, Postnet, Planet, Telepen, UpcA, UpcE, IntelligentMail, Sscc18, Scc14, Itf14, PDF417, MacroPDF417, DataMatrix, QRCode.
ezBarcodeComponent will support .Net framework 2.0 and up (.Net framework 2.0, 3.0 and 3.5). Note: For 64 bits OS, such as Windows Vista 64 bits edition, please select x86 platform to do the development.
Select Configuration Manager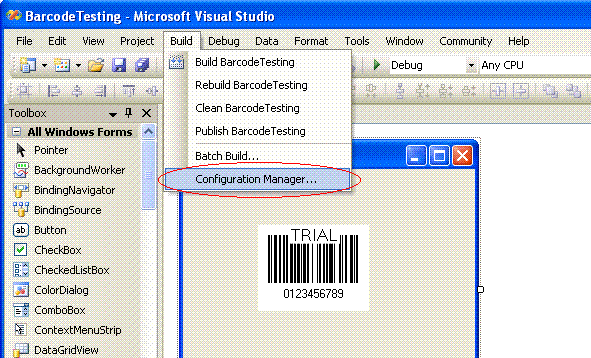 Select x86 platform